Best Golf Push Carts
This page contains affiliate links. As an Amazon Associate I earn from qualifying purchases. Learn more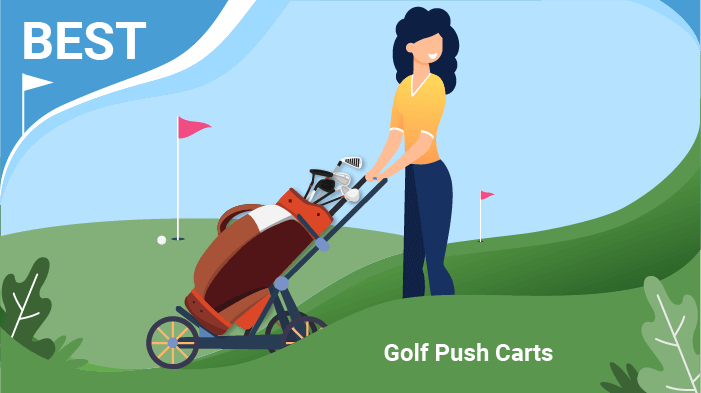 You won't always have the option of riding in a golf cart around the courses you play, and golf push carts can offer an easy and convenient way to move your equipment around the course without a lot of stress.
If you are in the market for the best golf push cart, then we want to help you make a smart buying decision with this in-depth guide.
We'll look at the kind of factors you should be paying attention to when you buy and what common mistakes you should avoid.
Quick Links: Best Golf Push Carts
Clicgear Model 3.5+ Golf Push Cart

Lots of storage space

Very light and yet durable as well

VIEW LATEST PRICE

Best 3 wheel golf push cart

Best 3 wheel golf push cart

CaddyTek EZ-Fold 3 Wheel Golf Push Cart

Very easy to maneuver

All sorts of storage compartments

VIEW LATEST PRICE

3 Wheel Freestyle Easy Fold Foldable Golf Push Cart

One of the top-rated push carts available

Very light and easy to maneuver

VIEW LATEST PRICE

Best 4 wheel push golf carts

Best 4 wheel push golf carts

Bag Boy Quad XL 4-Wheel Golf Push Cart

Easy to turn

One of the most stable options

Folds fast and easy

VIEW LATEST PRICE

Best compact golf push cart

Best compact golf push cart

Caddiester X1-EP Quick-Fold Deluxe

Super easy to fodl up

Offers plenty of storage

VIEW LATEST PRICE
5 Best Rated Golf Push Carts Reviewed
We have covered the basics of shopping for the best golf push carts, and now we want to get into some product reviews so that you can see what's available.
You may find some better ones out there for you than what we have picked out here, but these are among the best options, and we think that most people will do well with one of these selections.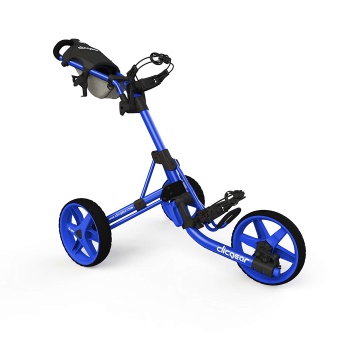 Pros:
Lots of storage space.
Very light and yet durable as well.
Cons:
Can be difficult to figure out how to use at first.
This light, 18-pound cart folds up fast and easy and has a tripod design that makes it a breeze to move around the golf course.
It comes in a variety of colors to suit any preference and retails for close to the $200 mark. Even though this cart is very lightweight, considerably speaking, it is also quite durable.
It offers hand braking and includes accessory holders and a beverage holder.
Of course, there is also space for all your golf items like tees and golf balls. The instructions that come with this cart, however, are spare and don't cover some of the basics for consumers.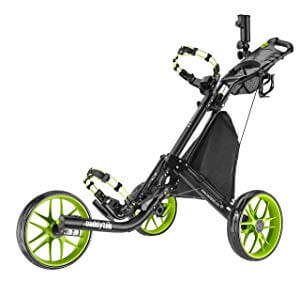 Pros:
Very easy to maneuver.
All sorts of storage compartments.
Cons:
Holders can fall out of place and may not last long.
This spiffy little cart fodls super easily. You simpley use a push button feature to fodl it in two steps fro fast and easy packing away.
It includes a mesh net and a built-in cooler, as well as storage for an umbrella and other items. The foot brake worsk by pushgin the brake to stop it and then pushgin ti again to release the brake.
The wide body design ensrues stbailyt, as do the wide wheels that ame tie ay to push aorudn on most type sof terrain.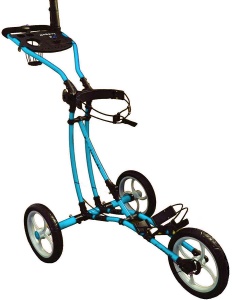 Pros:
One of the top-rated push carts available.
Very light and easy to maneuver.
This is one of the most popular and highest rated golf push carts available, as it has received a gold medal award from Golf Digest for its design.
It is one of the easiest carts to push around. It's one the lightest three wheel carts too, at only 15 pounds, so it should be easy to lift in and out of your vehicle. It uses a push button brakign system that is remarkably easy to use.
On top of all that, it is fairly durable but not as tough as some of the other options on this list, due to the lighter weight. You'll have to decide whether you want a light cart or oen that is hardy.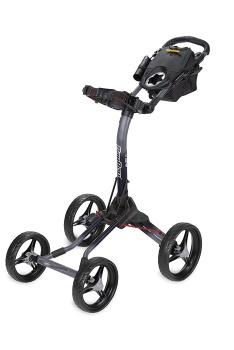 Pros:
Easy to turn.
One of the most stable options.
Folds fast and easy.
This is a great four wehhl cart hat;s a bit heavier than the other owns we have listed so far, but it is far more stable.
Despite tis laregr size, it offers little storage space, only giving you a place to store your clubs and ltitle else. it does include a cosnolre scoreboard for you to easily rest your scorecard and keep a record of the game, though.
It also fodls qucikly and easily for convenient storage.
The wide wheels contribute to its exceleltn stability and make for easy turning.
Pros:
Super easy to fold up.
Offers plenty of storage.
Cons:
Some parts are not durable.
Kind of heavy.
The foot brake pedal and easy fold design make this cart a joy to use. It folds up very small for your convenience.
It has a lot of storage compartments and can easily fit an umbrella, drinks, your GPS and a towel, along with others.
It fits all your golfing ewuipemt as well, icnldugin scorecards, balls and pencils. It is oen of the heavier carts on this list, though, and it has some cehap hodlers that may not last evry logn, but otherwise it si a great value and a cart that is easy to use.
How a Good Golf Push Cart Affects Your Game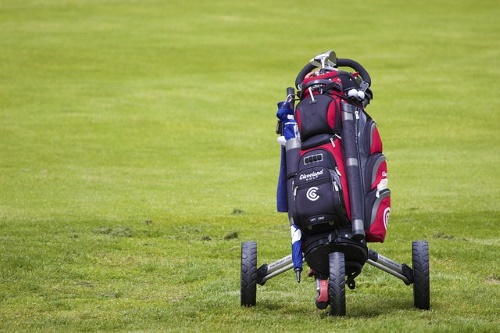 The push cart you use can really get in the way of you having a good golf game. Imagine trying to get around the golf course and go from shot to shot when your golf push cart isn't cooperating.
Maybe it has a tough time on the terrain or the wheels just tend to lock up. You'll likely get frustrated and fed up with your push cart, and that frustration can really hamper your game.
You won't be on top of your game at that point, but with the right kind of push cart, you'll be able to move all around the course with ease.
You'll be able to stay focused and keep your mind on the game without your golf cart getting in the way.
The best golf push carts are the ones that you hardly have to think about, and we'll help you pick out something like that with our guide here.
What to Consider before You Buy
There are some things that you want to bear in mind as you try to pick the best golf push cart. These are factors that will play a role in determining how effective and easy to use the cart is for you:
How It Brakes– There are a few different types of braking systems for golf carts. SportProvement.com lists foot brakes as the most popular, but there are also hand brakes and push button brakes. You'll have to figure out what works best for you, and those with physical impairments will need to choose a braking system that suits their ability. You ultimately want to choose a braking system that removes as much frustration as possible.
Ruggedness– This encompasses a few different aspects of the golf cart, such as the ability to handle rough terrain and the overall durability of the cart. Keep in mind that a push cart is probably not going to be cheap, and you need to ensure that your investment is worth it. Choose something that can handle the wear and tear of continuous play all year long across multiple kinds of golf courses and that won't get stuck on the terrain too easily.
Compact Size– A decent push cart that is convenient to use will be easy to fold up and will fold up small. If you struggle to break down the cart and fit it into your vehicle or drivable golf cart, then that is going to make your game less enjoyable. You'll dread having to deal with the push cart each time, and that's not the kind of experience you want.
Push Cart Style– What do you want out of a golf push cart? Do you want something that is fast and easy to move around or something that is unlikely to fall over or lose stability on most types of terrain. GolfBalls.com suggests you consider going with one or the other, as you are unlikely to find a push cart that offers both.
What to Avoid
If you have never bought a golf push cart before, then you may be liable to make one of the following common mistakes:
Two Wheels- Some golf push carts only have two wheels and a stand, which makes them kind of awkward to push around most courses, especially if your bag is already weighed down with clubs. Golf West suggests you go with a three or four-wheeled golf cart for better stability and easier movement. Two wheels generally gives you more speed, but it can also be more frustrating to deal with when you have a heavy bag or a rough course to play on.
Insufficient Space– Be careful about buying a golf cart that is too small for everything you want to bring. The best ones have space for beverages, golf equipment and a towel and may even provide a seat for you to rest on when you are waiting for your turn.
Overweight– Yes, you want the features that make the golf cart a joy to use, but you also don't want it to be too heavy. You'll already be adding the weight of your entire set of clubs to it, so why would you want a heavy golf cart that is tough to push around without that added weight? Consider how heavy the cart is before you make a purchase.
Thin Tires- Watch the tire size as well. While you can get cheaper carts with thin tires, since these cost less to make, you will lose out on stability and ease of use. The cart will be harder to push around any kind of course if the tires are thin.
Final Thoughts
Are you ready to buy your own golf push cart? We hope our guide has been informative and helpful as you try to make the right buying decision.
Just take your time and keep in mind the pointers we have given you and you should be able to choose the most suitable cart for your needs.