Best Golf Irons
This page contains affiliate links. As an Amazon Associate I earn from qualifying purchases. Learn more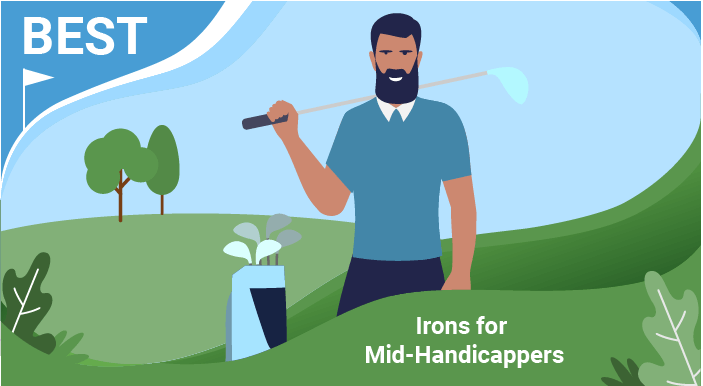 It's important that you choose the right golf irons for your game and your play styles. Not everyone knows how to pick the best golf irons for themselves, and we want to help you do that. We'll show you what to look for and what kinds of things you should avoid and then offer some reviews for the best golf irons available.
Read on to find out how you can pick golf irons better and ultimately improve your game.
Quick Links: Best Golf Irons
Best Rated Golf Irons Reviewed
Callaway Golf 2018 Men's Rogue X Individual Iron

Very easy and comfortable to use

High quality materials

Made to send the ball very far

VIEW LATEST PRICE

MAZEL Golf Individual Iron

Very inexpensive

Very forgiving

Comfortable to use

VIEW LATEST PRICE

Wilson Harmonized Golf Wedge

Offers tons of variety and options

Allows you to play anywhere

Options for a range of budgets

VIEW LATEST PRICE

Nike VR Pro Combo Iron Set 8-PW Uniflex Steel RH

Very affordable

Lots of value- comes with multiple clubs

VIEW LATEST PRICE

Best for high handicapper

Best for high handicapper

Cobra S3 3-Iron Uniflex Steel RH

Very comfortable to hit with

Great price for what you get

Made with steel

VIEW LATEST PRICE

Best for mid handicapper

Best for mid handicapper

Very comfortable to hit with

Lighter than average

Great at giving you extra distance

VIEW LATEST PRICE
We wanted to show you first how to find the right golf iron- what to look for and what to be careful about. Now we would like to show you what we think are the best golf irons available. These are not all high-end options, as we want to address people with smaller budgets as well as those willing to spend. Here are 10 golf irons we've reviewed that we think are worth your time and money.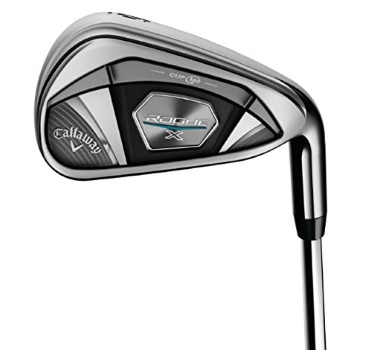 Pros:
Very easy and comfortable to use.
High quality materials.
Made to send the ball very far.
You can buy this same iron in any style you want. It comes in both right handed and left handed versions, and you can pick from any flex level you like. It offers a 360 face cup, which allows you to hit the ball harder and create more speed with your swings.
Callaway has designed this iron for distance, so if you are having trouble hitting balls very far with what you are currently using, then this may be a good alternative. This iron is made with very strong materials and made to have a good feel for golfers. It's comfortable and easy to swing with, and most golfers simply love the way it handles. The price is decent as well, which may come as a surprise for those familiar with Callaway and its often expensive golfing products.
It's still going to be too expensive for some people, but no matter what your proficiency level is, this is a great iron to use. The only downside is that it isn't very forgiving, so those who are having trouble directing and hitting the ball may want something a little bigger.
Pros:
Very inexpensive.
Very forgiving.
Comfortable to use.
Cons:
Not designed for pros.
Not very precise.
Here is a much more budget friendly option from Mazel. It's a stainless steel iron with a lot of forgiveness, thanks to the large head. That allows you to hit the ball more easily and find your sweet spot. It may not offer very precise control, but you will be able to get the ball moving in the right direction and be less likely to slice it.
The rubber grip is very comfortable and prevents the iron from slipping, even in unpleasant weather conditions. This is considered a maximum forgiveness iron, so if you are having some difficulty in getting your shots where you want them to go or even getting the ball into the air, then this is a great iron for you.
The price makes it ideal for beginners, since they may want to change their iron in short order as they figure out what works for them. If you know someone who is just starting out in golf or you are new to the game yourself, then you couldn't do much better than this club from Mazel.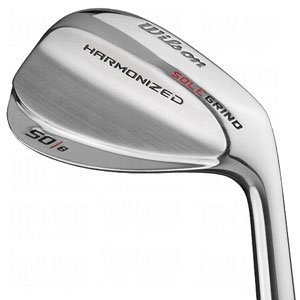 Pros:
Offers tons of variety and options.
Allows you to play anywhere.
Options for a range of budgets.
Cons:
The grip and feel are not as good compared to other products.
Wilson has created a great club here for improving your precision. It's incredibly accurate and great at hitting balls high and fast. If you have not played a lot of golf, it may be a bit advanced for you, but experienced players will get a lot out of this one. It comes in a lot of different variations that offer different features and sell at different prices. So, no matter what your weaknesses or strengths are, Wilson has a wedge for you.
The blade has some modified bounce angles implemented onto it which allow you to play in a variety of terrains, including the sand or the rough. You can also enjoy the dead spin feature that helps you improve accuracy even more and ensure the ball goes where you want it to. The sole design is meant to give you lots of options, so no matter how you like to play the game, you should be able to find an option for you.
Players should be aware that the grip and the feel of this iron are not great. Golfers often complain that it has little feel to it and that it doesn't offer a lot of grip when they swing, but otherwise it is a very solid iron.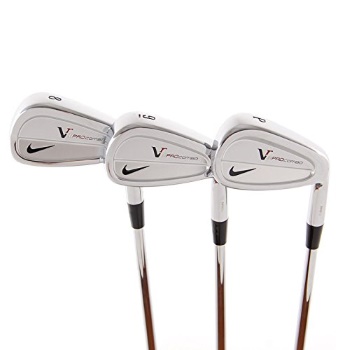 Pros:
Very affordable.
Lots of value- comes with multiple clubs.
Cons:
Very stiff, despite the Uniflex claims.
Nike has produced a great value set of clubs here. These are designed to give you a lot of playability for your money, offering three clubs for the price of what many manufacturers charge for one. These are advertised as being Uniflex clubs, meaning they should be very flexible, but that is simply not the case.
They are actually quite stiff, so you need to be aware of that before you buy them. The blade-like clubs are made from steel, so they should last you for a while. The only really cheap parts on these irons are the grips and the connective components for the heads.
The rest of them are very durable, so you get some decent life out of them, especially for the price. It is definitely the low price point that will attract most people to these irons, and they probably aren't something you will want to use at a professional level, but they work well for the budget-minded golfer who is looking for something that works well and won't break your bank account.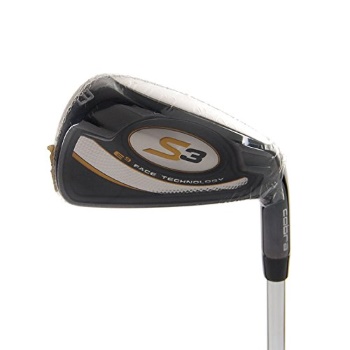 Pros:
Very comfortable to hit with.
Great price for what you get.
Made with steel.
Cons:
Can be tough to hit the ball square with this club.
Cobra does a great job of giving you value for your money. Their irons tend to be on the inexpensive side and yet manage to offer great performance and durability. The S3 is no exception, and it is an excellent value proposition that is decent for just about any level of golfer.
It has a stiff shaft and is made from steel, and it only weighs two pounds. That makes it a comfortable club to use, and it is well regarded for its consistency. It can be tough to hit cleanly with this iron, especially for inexperienced golfers who may require a bit more forgiveness from their club.
The sole is relatively small, so if you are having trouble hitting the ball square, then this isn't what you want to use until your game improves.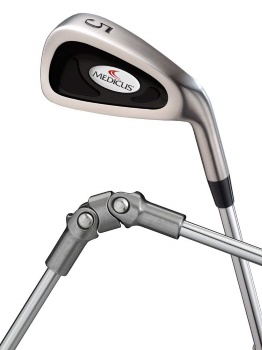 Pros:
Makes it easy to improve your game.
A great value for players who would need to go through many irons in a few years.
Perfect for players who struggle with various aspects of the game.
Cons:
Can be tough to get used to at first.
Not made for the professional player.
Now, here is something a bit different. This hinged golf iron is designed for people who need some help with their swing and accuracy and who want to be able to adjust their club as they go. It is basically several different clubs in one, so the higher price is warranted.
The hinge can make it a bit awkward to use, but it's not as much of an inconvenience as you might think. This is still a lightweight iron with a lot of options for you. As you get better at certain aspects of your game, you can quickly and easily modify the club to fit your style. These come in both men and women's styles as well as versions for your left or right hand.
You should be able to find one that fits you well, but keep in mind that they are strictly for beginners. The Medicus Dual Hinge iron is made to help you work on your game as an inexperienced player. If you are a pro, you obviously won't need this, but for everyone else, it can be a great tool to help them get their game where they want it to be.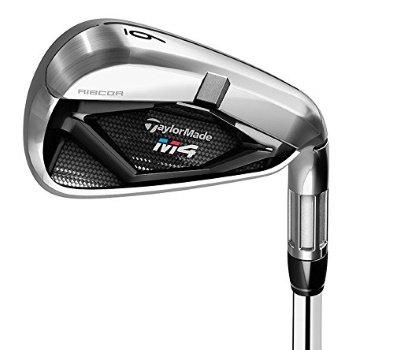 Pros:
Prevents inconsistency.
Preserves ball speed.
Superb for mid-level players.
This high end iron comes in stiff and regular flex versions, and it is made from incredibly durable materials. It will last for a long time, so getting your money's worth out if it is a fact. It uses state-of-the-art design methods to ensure that you get lots of control, enjoy plentiful forgiveness and experience little spin on the ball.
That's ideal for mid-level players who need that help and who rely on the iron to do some of the work for them. There can be a bit of drag on the ball due to the extra forgiveness, but it shouldn't be very noticeable. This is a good club for improving your ball hit consistently.
It features a few different design technologies that actually improve your chances of hitting a ball properly, even when you hit off center. This also helps the ball travel at a decent speed on mis-hits and other mistakes you may make, ensuring a more consistent game overall.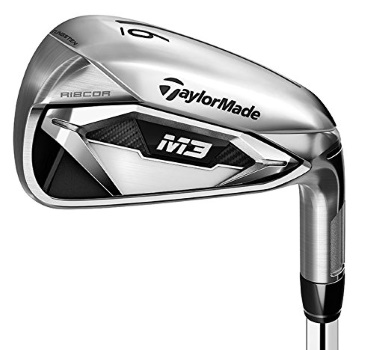 Pros:
Improves launch performance.
Great for getting more speed out of your hits.
Cons:
More expensive than the average.
This one isn't much different from the previous TaylorMade, but it adds a little weight that helps you achieve greater speed, even on relatively slow swings. For those who are having trouble with their distance, this can be a great iron to improve that aspect of your game. It comes in both regular and stiff flexibility options, and it offers decent forgiveness.
The face slots that TaylorMade has included do a good job of correcting mis-hits and ensuring that your ball retains its speed no matter which angle you hit it at. You may not always hit your ball in the center, and this is a good club for ensuring that those kinds of hits don't affect your game as much.
It's also great for ensuring a good launch from where you hit, so players who have trouble getting the ball up and propelling it with much speed are going to find that this is a good club for them. Of course, that means that professional players may not like it much, depending on their strengths and weaknesses, but this is a great iron for low and mid-level players.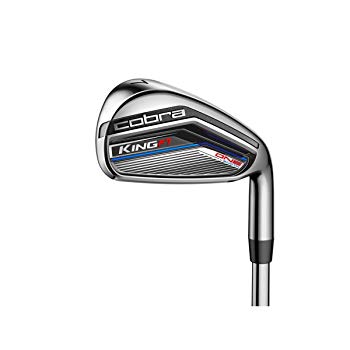 Pros:
Great at giving you extra distance.
The lighter than average golf club is very comfortable.
Good value for money
Cons:
Small face can lead to some mis-hits.
Cobra makes a fairly expensive but very simple to use golf club. This one is incredibly light, thanks to its hollow design. The club face is narrower than most mid-handicapper clubs, which means that you might not hit as many shots as you like.
So, if you struggle to hit the ball or struggle to hit it in the right direction, then you should look for a different club.
Otherwise, this is a great club for those who want to squeeze some extra distance out of their hits.
How the Right Iron Makes a Difference
Not all irons are the same. Some of them are made to improve your game while others are designed for professional players. You have to choose the one that is right for you. The right golf iron can get your ball in the air and ensure that it heads toward the flagstick like it is supposed to. The wrong one can be unforgiving and leave you wondering why your golf skills are so bad.
Even poor golfers have to be careful about the kind of irons they use. If they use something that has too much forgiveness, then their shots are not going to be very accurate, and the swing speed will be all off for them. Players that can get a lot of swing speed out of their golf iron will need different ones compared to someone who has trouble working up a good swing.
The difference will be obvious when the ball flies across the course. The kind of iron used and the player skill involved will determine if that ball lands anywhere near where it is supposed to go.
What to Consider Before You Buy a Golf Iron
You don't want to use just any iron to play golf with. Choosing the right one can make a big impact on your game, and you need to keep a few things in mind as you are shopping for yours:
Forgiveness- This is the most important aspect of buying a golf iron. It is advised that you buy an iron that suits your skill level. The higher your handicap, the more forgiveness you should be looking for. Irons with a lot of forgiveness will help you to hit in the right direction and hit a long distance without you having to put a lot of effort into using them. They may seem odd looking and may not be as stylish and as streamlined as what the professional golfers use, but if you are not at that professional level yet, then you can't expect to be using the same equipment as the pros.
Price- You might think that the more expensive irons will be the better ones, but personal preference, your skill level and your height all determine what kind of iron will work best for you. It's possible to find a perfectly suited iron for a decent price, and you may have to do some searching to find that, but they are out there. You could also opt for used irons, which will cost you a fraction of what a new one would. This could be the best way to go for an inexperienced golfer with a small budget to work with. Don't be fooled into thinking that you have to pay a lot to get an iron that will improve your game.
Flex- If you aren't very familiar with golf irons, then you may not realize that some of them have more flex than others. You can pick your iron based on its flex. The least flexible ones will be labeled "Stiff", while "Normal" or "Regular" labels denote something with only a little bit of flexibility. The most flex can be found in irons denoted as "Ladies" or "Senior". The amount of flex in the shaft of the iron will determine how far the ball goes when you hit it. If you have a lot of swing speed, for instance, then you need something with a stiffer shaft. That will allow you to hit the ball as far as possible. More flexibility helps to give you more power in your swing, so you will have to know your strengths and weaknesses to determine what would be right for you.
The Soles- You can get irons that have a wide or narrow sole. The wider sole is used as a game improvement iron. It helps you work on your weak points and get better at making accurate shots. The narrower sole will give you greater precision, and it is generally recommended for pro golfers and those who have been playing the game for a while. Once again, knowing your strengths and weaknesses comes into play, and if you are honest about your game, then you can find an iron that works well for you.
What to Avoid
Not every iron will be a good quality one, and not every type of iron will be right for you. There are some things you need to be wary of as you are trying to find the best golf irons:
Buying for Looks– Yes, you want a golf iron that looks great, but do you really want to sacrifice the playability of the iron in order to get something that has a nice look to it? Forget about aesthetics and focus on the things that really matter. It's easy for golfers to get sidetracked thinking about how they will look on the golf course, but they should consider how they will look after they end the game with a low score.
Poor Grip- One of the more important aspects of a good golf iron is the grip. It needs to be comfortable to hold for hours on end and not slip, even when your hands become wet with perspiration. A lot of irons have great power and durability but fail when it comes to something as relatively simple as the grip.
Low Speed- If you're having trouble finding a good golf iron, then you probably have some issues with getting your speed and distance where they should be out on the course. Look for clubs that are specifically designed to boost those aspects of your game, as that can make a big difference in how many hits it takes to get to the hole.
Final Thoughts
We have shown you what we think are the best golf irons available, and we hope one of these is what you are looking for. If not, at least you can use this guide to sort through the irons on the market and find one that is suitable for your needs. Take your time, because a golf iron is an investment and something you want to choose with care. The choice you make will impact your game for as long as you use that iron.