Best Women's Golf Clubs
This page contains affiliate links. As an Amazon Associate I earn from qualifying purchases. Learn more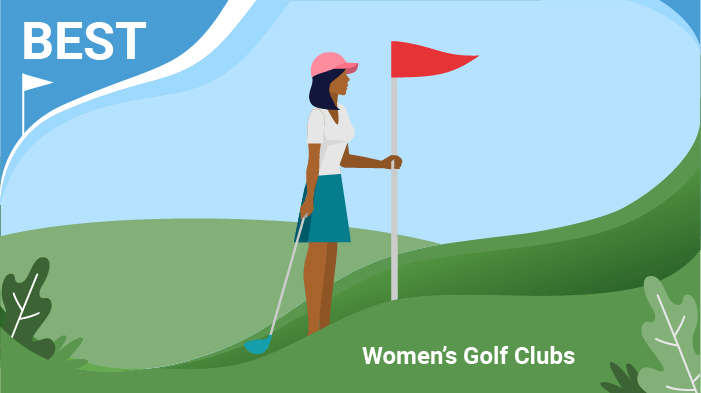 Many times, golfers will pick their golf clubs not based on the factors that matter most for when they are out on the green playing with them. They may choose the wrong club for their needs and end up regretting their decisions later, and we want to help you to avoid that problem.
We're focusing on golf clubs made for women here, and we're helping you choose the right kind of club based on vital factors that affect how it plays and how it feels for you. This in-depth article will cover all the essentials so that you can pick the best women's golf clubs with confidence.
Quick Links: Best Women's Golf Clubs
Best Rated Women's Golf Clubs Reviewed
Great for those tougher shots

Light and comfortable to use

VIEW LATEST PRICE

Intech Golf EZ Roll Chipper Ladies

Gives you incredible loft

Helps to improve accuracy with alignment features

VIEW LATEST PRICE

Cobra Women's Max Hybrid Golf Club

Great handling and performance

Low center of gravity allows for powerful shots

Well-constructed club that is built to last

VIEW LATEST PRICE

Callaway Steelhead XR Individual Iron

Allows for powerful hits

Prevents mis-hits

Lightweight construction makes for breezy swinging

VIEW LATEST PRICE

TiTech XG4 Women's Golf 4/5 Hybrid Club

Great for distance shots

Tons of loft

Very durable construction

VIEW LATEST PRICE
You now know what kinds of things to watch out for when you are buying the best women's golf clubs. Now, you can look at a few of the best clubs out there that we have reviewed and see if one of these may be a good fit for you.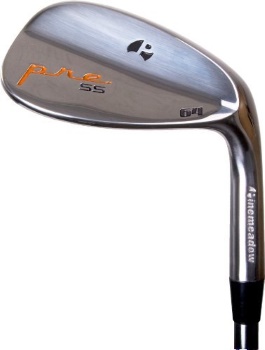 Pros:
Great for those tougher shots.
Light and comfortable to use.
Cons:
Not designed for short and low shots.
Pinemeadow makes some of the most affordable, quality wedges available. It's woman's version of the standard wedge is lightweight, easy to use and great for getting distance shots out of. It has a large face edge to help with those tough shots from the rough, and it is available in a few different versions so that you can find the perfect angle for the way you hit. Even though the price is incredibly low, the performance is on par with that of far more expensive wedges, so you're getting great value for your money here. The downside to this great wedge is that it is really just made for distance shots. Trying to shoot short with it or hit low shots is tough because of how well it provides loft for each hit.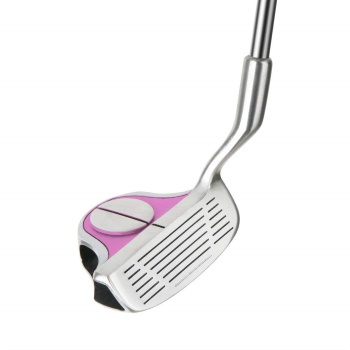 Pros:
Gives you incredible loft.
Helps to improve accuracy with alignment features.
Cons:
May offer too much loft for some golfers and courses.
May be slightly too heavy for inexperienced golfers.
This is an excellent chipper at a decent price, and it is designed for very accurate shots from anywhere on the course. The alignment features help you line up your ball properly and avoid slicing. This is also a great club for gaining loft, with a 42 loft rating that allows for you to hit those high, long shots fairly easily. The extra weight in the head ensures a solid hit each time, while the lightweight shaft makes for an easy swing that won't wear out your arms.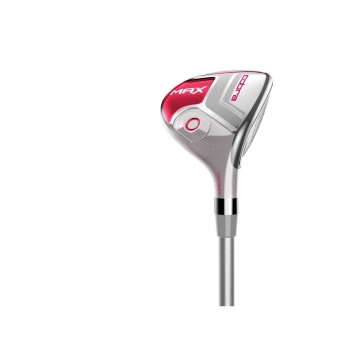 Pros:
Great handling and performance.
Low center of gravity allows for powerful shots.
Well-constructed club that is built to last.
Cons:
Kind of on the pricey side.
Cobra is always going to make some of the most expensive golfing products on the market, but you can't say that they are overcharging their customers and giving them little value in return. This is a solidly constructed club with sleek design and comfortable handing. It comes in a few different versions to fit your play style and preferences, and it offers superb forgiveness and a low center of gravity. This means that you'll be hitting balls hard and fast even with a weak swing, making it an ideal club for long shots and tougher hits that other clubs can't quite make.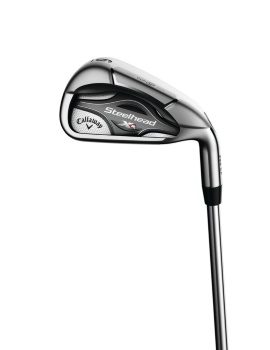 Pros:
Allows for powerful hits.
Prevents mis-hits.
Lightweight construction makes for breezy swinging.
Cons:
Sweet spot could use some work.
This lightweight club is designed with most of the weight allocated to the head for an easy swing and a powerful hit. The face cup style of this iron prevents mis-hits and poor aiming, improving your accuracy and ensuring a better, solider hit off the tee every time. The low center of gravity ensures long hits and plenty of power from even the softest swings. The sweet spot for it isn't going to feel quite right to more experienced players, and the price may be a bit high for what it offers, but otherwise this is a decent performing club that's good for beginners.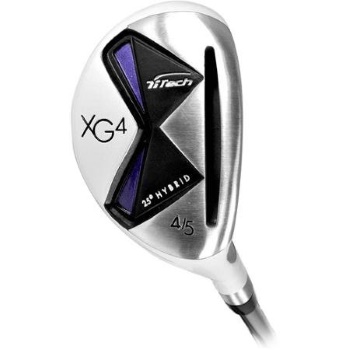 Pros:
Great for distance shots.
Tons of loft.
Very durable construction.
Cons:
May feel too heavy for some women players.
This steel hybrid club is designed to get your ball into the air high and far, giving you lots of power no matter how hard you swing the club. If you have trouble getting the ball high on most shots, then this club is a going to be great for improving your game. Because it is made from steel instead of graphite, it will last a very long time, but it will also feel a bit heavy for some players, and you need to be aware of that. If your arms tire easily while golfing, then this may not be the best option for you.
How The Right Golf Club Help Your Game
Not all clubs are made the same, especially when it comes to those for women and men. Women's clubs tend to be lighter and have a bit more flex to them than men's clubs. They are not necessarily more forgiving, but they are made for lady's measurements and strength. They also tend to be shorter in length, as women are generally shorter than men, and this affects how they swing and how easy they are to handle.
Once you are using a club that is made for you and your body type, then you will be able to use it much easier. You will be able to hit farther and not slice the ball as often. You'll be more likely to hit the ball where you want it to go, and that's going to help your game considerably.
Having the right club for your strengths and weaknesses is always a better choice than just buying blindly or buying a club because it works well for someone else. You need to know your body and how the club you buy for it affects your game. Once you do that, then you buy the most effective clubs and the ones that are going to give you the best performance out on the green.
What to Consider before You Buy
You want to keep a few things in mind about the clubs you are buying rather than purchasing something blindly or for all the wren reasons:
Your Strengths and Weaknesses– You should have some idea of how you play the game before you go and buy golf clubs. The wedges, irons and woods that will work best for you will depend on the kind of game you play. If you hit soft in certain instances or have trouble hitting from the rough, then those will factor into the kind of clubs that would be best for you, according to Golf Week. Avoid blindly buying your clubs and talk to a professional to ensure you are making the right choice.
Length- Golfing expert Bobby Jones says that women's clubs should be shorter than men's, and this will hold true in most cases, but if you are a taller woman, then you will likely need a longer club, and there may be instances where women benefit from buying a man's club. The average woman is between 5'3" and 6'1", and if you are taller than that, then you will probably want a longer club.
Graphite or Steel– Most golf clubs are made out of either steel or graphite. Graphite is lighter, so it is usually better for women golfers, but more experienced golfers may not like it at much. If you are used to hitting hard and fast with your swings, then a steel club is probably a better option, but it's a good idea to swing the clubs for yourself at a golf specialty store or consult a golfing expert on your own golfing tendencies before you make your choice.
The Full Set– You'll need more than one kind of golf club to play the game well. You need putters, wedges, woods, and irons to make the most of the course and to get the best shots. Be sure to diversify your golf club set by getting everything you need to play the game well rather than just focusing on a single club. If you already have some decent clubs that work well for you, then focus on getting your club set rounded out with the types of clubs you are missing.
What to Avoid
There are a few things to watch out for as you try to buy the best women's golf clubs. These are common mistakes or simply factors that will drag down your experience and hamper your game:
Heavy Clubs- Most women do well with lighter clubs, says Golflink. This gives them the ability to swing harder and hit farther, getting more height and distance from their balls. Heavier clubs are better suited for men, and while it may be tempting to use the same clubs as your male competitors, you aren't likely to get the same results as they do out of them.
Men's Clubs- You might have an easier time finding men's clubs than women's clubs that you like the look of and that fit your budget, but it is important that you choose the appropriate club. In some case, you can make a men's club work for you, but generally speaking, that kind of club is going to wear out your arms and limit how far you can hit the ball and how much control you have over your hits. It's worth putting in the extra effort to find a suitable women's club.
Paying too Much- The cost of the club is not always a good indicator of how long it will last or how well it will perform. You could be paying for the name brand, in many cases, and it is worth looking at the user reviews to determine if the club is really giving you value or if you are being taken advantage of.
Style over Substance- Of course, you want a club that looks nice and that you feel confident using in front of other people, but you want to be careful about putting too much stock into a golf club that is stylish but not that useful. It's more important to find a club that gives you some good distance and is easy to use rather than one that is instantly visually appealing.
Final Thoughts
With this article we have given you the tools you need to find the best women's golf clubs. If you didn't find what you were looking for among the list of those that we reviewed, then hopefully you at least know how to find a decent golf club that will be comfortable for you and that will perform well as you golf.