Best Golf Simulators
This page contains affiliate links. As an Amazon Associate I earn from qualifying purchases. Learn more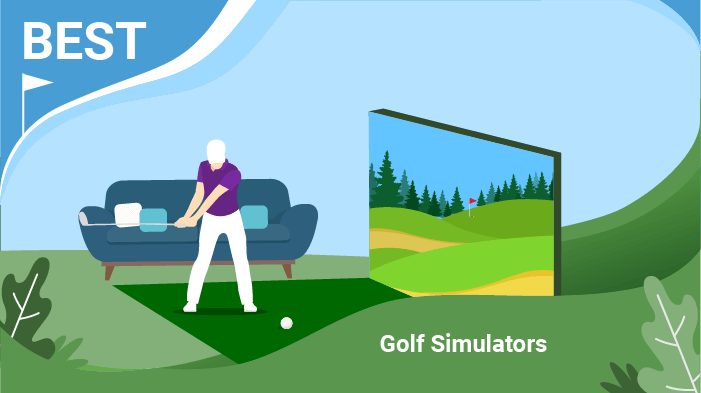 There was a time where you could only experience a true golf simulator experience at a high end golfing facility. You would have to pay top dollar to have one in your facility, and having one in your home was out of the question for all but the richest golfer.
Nowadays, most golfers can afford a system that lets them simulate the game to a remarkable degree of accuracy. We'll show you how this kind of tool can help your game out and what you need to be looking for when you shop for one.
Quick Links: Best Golf Simulators
5 Best Rated Golf Simulators Reviewed
FlightScope Mevo - Portable Personal Launch Monitor for Golf

Very simple to use

Easy to remove and pack up

Every component is made to last

VIEW LATEST PRICE

OptiShot 2 Golf Simulator

Decent features for the price

Comes with replacement equipment

Adaptable to just about any setup

VIEW LATEST PRICE

TruGolf Vista Series 8 Golf Simulator Studio

One of the best simulators money can buy

Has all the features you could want

VIEW LATEST PRICE

Rapsodo R-Motion and The Golf Club Simulator and Swing Analyzer

Packed with features

Includes everything you need

Made very durably

VIEW LATEST PRICE

Lots of bang for your buck

Budget priced

VIEW LATEST PRICE
We have told you what to look for when you want to buy the best golf simulator. Now, you should see what the best simulators are available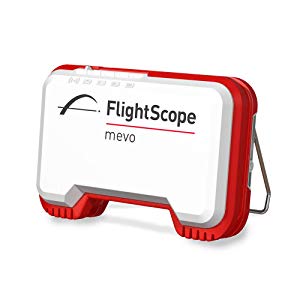 Pros:
Very simple to use.
Easy to remove and pack up.
Every component is made to last.
Cons:
High end simulation means a high end budget.
SkyTrak makes mostly high end golfing simulators, and this one continues that tradition. It's great for playing golf in the garage, and it lets you feel like you are in the actual game, thanks to the smart design and wealth of features to pick from. All of the components are removable and retractable, making it ideal for spaces where you live or park your car, as you can get the simulator out of the way easily when you need the extra space.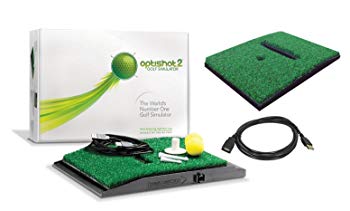 Pros:
Decent features for the price.
Comes with replacement equipment.
Adaptable to just about any setup.
Cons:
Does not includes everything you need to start practicing.
This is a somewhat more stripped back simulator, but it still packs in a lot of features. It includes some extra parts, in case some of the original included ones wear out or break down. It can connect easily to a television or projector, but does not include one. The lengthy cable it includes allows you to set up the simulation in a large area.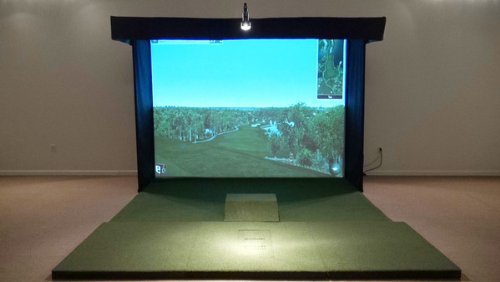 Pros:
One of the best simulators money can buy.
Has all the features you could want.
Cons:
Only for serious golfers due to size and price.
This is the same golf simulator that a lot of pro shops use. It comes packed with all the features, like weather effects, portable design, detailed readouts and more. It's one of the most expensive simulators you will find, so consider if it fits into your budget before you get too interested in it. If you plan to simulate the game for the long haul, though, then this is probably the way to go.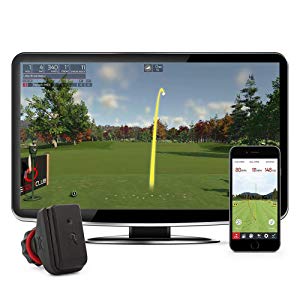 Pros:
Packed with features
Includes everything you need.
Made very durably.
Cons:
More expensive than most other options.
This is hands down the best golf simulator you can get for sheer value and features. There are a few others that offer a bit more, but not by much. This one is pricey, but it is well worth the investment, thanks to the included screen, the high quality equipment and the accurate readouts that help you improve your game and make you feel like you are really playing on a course.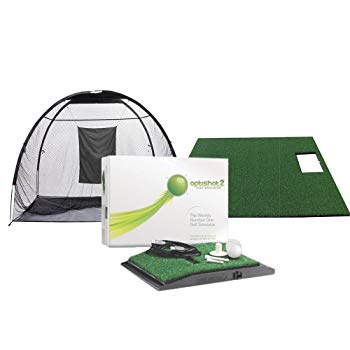 Pros:
Lots of bang for your buck.
Budget priced.
Cons:
Lacking in features when compared to some of the higher end ones.
Here is another option from the same company, and it is offering a bit more at a higher price point. It's under $1,000, which puts it in quite a few people's budgets, but you need to understand what you are getting for the price. The mat, net, scoring equipment and other included components do an excellent job of helping you to practice, but this is considered a budget product, and you should realize that going in. It will last, but it won't offer all the features of something that you would pay more than $1,000 for.
How a Simulator Can Improve Your Game
You might not think that you could learn much from playing what amounts to a golf video game, but modern golf simulators have a lot to offer you.
Once you get a good one, you can get the kind of help that usually comes from playing for hours out on actual courses or from working with a golfing instructor. You might be surprised at how munch your golf game changes for the better.
One of the advantages to using a golfing simulator is that it lets you try out any kind of shot. Not all golf courses give you that kind of opportunity, but according to GolfSwingSystems.co.uk, that's one of the best ways a golfing simulator can help you out.
You can practice shots that you would rarely get to take out on most courses, so when it comes time to take those shots in the real world, you can be ready for them.
This remarkable tool lets you work on your swing, your stance and the entire way you play the game. You can learn what kind of club you need for each situation and then learn how to use each club.
You also get to train on the schedule that works for you. You don't have to rely on the golf course's opening hours to get in your practice, because a golf simulator in your own home is something that you can use anytime you want.
What to Consider before You Buy
As you might imagine, not all golfing simulators are at the same level. The best golf simulator has some key aspects to it that make it stand out from the rest and that make it a good choice for you. Here are the factors you should consider when you go shopping for a golf simulator:
Price– This is actually one of the key factors that needs to be brought into consideration when you look at golfing simulators. This equipment can become very expensive very fast, and you need to set realistic expectations for what you can spend. Set a budget when you go shopping for a simulator and consider if it is cost effective to get one of these. Golfoid.com suggests you compare the cost of buying simulator to spending money actually going to the course. In some instances, it is cheaper to just use the golf courses near you to train rather than to buy an expensive golf simulator.
Feedback– A golf simulator can only help you determine how well you are doing if it provides adequate feedback. If the golf simulator tells you how far you are hitting, how close to the mark you are, what your ball speed is and other pertinent information, then you can use that to improve your game and change the way you swing for the better. Without that kind of information, though, you'll be training somewhat blindly, not sure if you need to make changes to become better.
Ease of Use– Some golf simulators are needlessly complicated, and you want you want to pay close attention to user reviews to see how easy or difficult the simulator is to use. If you struggle with technology already, then you probably won't use a simulator that is tough to operate no matter how many features it comes with.
Features– That brings us to the final consideration- the features. You can get a bare bones simulator that only does the basics, but you'll get more mileage out of a fully featured simulator. One that can simulate different weather conditions or even allow you to play a virtual facsimile of actual golf courses will give you a lot more assistance than one that is decidedly simpler.
What to Avoid
As you try to find the best golf simulator, there are some things you should be avoiding. Here are our top things to watch out for:
Cheap– We put price as the top factor in things to consider, and we think it is worth pointing to cheap simulators here on our section of what to avoid. The cheaper ones will not work very well, will be light on features and will likely feel like a waste of money and time.
Inaccurate– What most people look for in golf simulations is a way to play the actual game in the comfort and convenience of their own home, and a simulation should feel like the actual game, says Golf Digest. You should not expect anything other than a true simulation when you buy one of these devices, and if you aren't getting that, then you need to look for a different simulator. Once again, reviews are your friend, and you can use them to tell you what simulators offer the real deal.
Not Considering Your Needs– Do you really need a simulator with all the bells and whistles? Do you need one that offers dozens of simulated courses when you will really only play a couple courses in real life? It depends on how far you want to go with your training and if you use the simulator as a substitute for the real thing. Some people use simulators to experience what other courses are like that they will never visit, and you need to factor in your preferences when you purchase a simulator to ensure you are getting something that fits you well.
Not Reading Reviews– If you trust the ad copy on any product, then you are likely falling for some exaggerated claims or outright lies. Cut through the PR nonsense to find out what the various simulators have to offer and how they perform. Read professional reviews and those from customers to get a good sense of how each simulator stacks up.
Final Thoughts
We hope this helps you as you try to fine best golf simulator. You do have plenty of choices, but if you know what to look for and what to avoid, then you can sort through those fairly easily to find a simulator that works well for you.