Best Sunglasses For Golf
This page contains affiliate links. As an Amazon Associate I earn from qualifying purchases. Learn more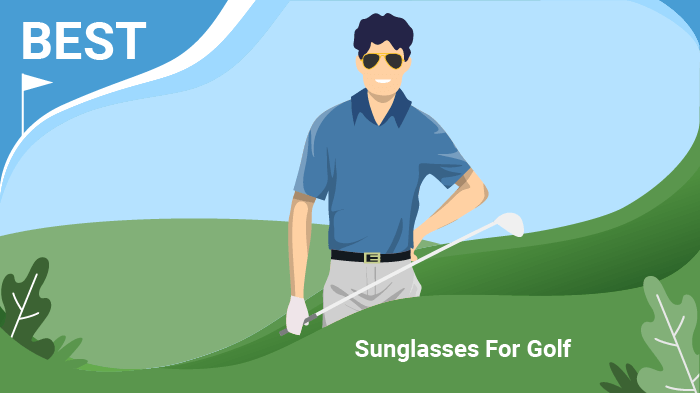 There are a lot of aspects of the golf game that get overlooked because of those parts that have bigger roles, like golf clubs and golf balls.
We want to focus for now on a seemingly insignificant part of your golf game – the sunglasses you wear. Does it really matter what pair of sunglasses you buy and what features they offer?
Will that really affect your game in any significant way?
As any experienced golfer knows, everything plays an important role in how well you perform out on the golf course, and even the small things that don't seem very important can be significant. We're going to help you find the best golf sunglasses to wear so that you can improve your game by however it may be.
Quick Links: Best Sunglasses For Golf
Product Reviews:

Best Sunglasses For Golf
Oakley Men's Flak Jacket XLJ Sunglasses

Very lightweight and comfortable

Greater visibility compare to most of the competition

Very, very strong

VIEW LATEST PRICE

Best tifosi sunglasses for golf

Best tifosi sunglasses for golf

Tifosi Slip Wrap Sunglasses

Very tough design of frames and lenses

Multiple tint choices to pick from

VIEW LATEST PRICE

JiMarti JM01 Sunglasses for Golf, Fishing, Cycling-Unbreakable-TR90 Frame

Great eye coverage

Very durable construction

Lifetime warranty ensures you will be using these for a long time

VIEW LATEST PRICE

Best golf sunglasses under $50

Best golf sunglasses under $50

TOREGE Polarized Sports Sunglasses

Great coverage for your eyes

Polarized lenses

Extremely comfortable to wear

VIEW LATEST PRICE

Duduma Polarized Sports Sunglasses

Feels very light

Won't cost you much

Warranty will take care of most problems

VIEW LATEST PRICE
We have shown you what you look for and what to be careful of, and now we want to cover some of the best golf sunglasses on the market today. We picked these out because of their value, their quality and their range of features. No matter your taste or your budget, you should be able to find a pair of sunglasses from this list that fits your needs.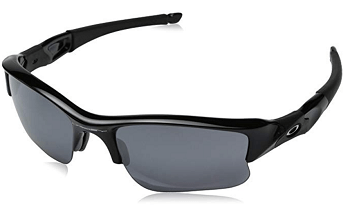 Pros:
Very lightweight and comfortable.
Greater visibility compare to most of the competition.
Very, very strong.
Cons:
A kind of high price point.
No polarization.
This is one of the best sunglasses for golf that you can get, because it offers features that other glasses are missing while not compromising on durability and practicality.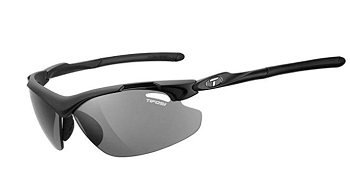 Pros:
Very tough design of frames and lenses.
Multiple tint choices to pick from.
Cons:
There have been some reports of frames and lenses that are not connected very strongly.
These glasses from Tifosi are designed to stand up to all kinds of wear and tear. If you drop them, they will flex instead of break. The frames are made from very strong TR-90 nylon. This material is resistant to degradation from sunlight and will last for an incredibly long time.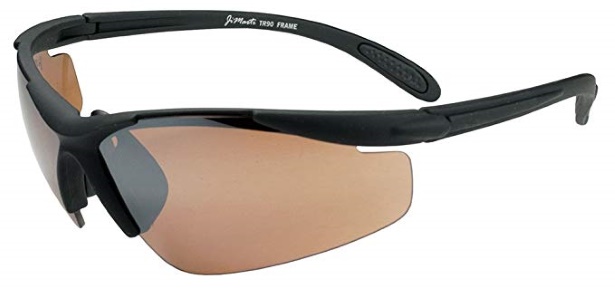 Pros:
Great eye coverage.
Very durable construction.
Lifetime warranty ensures you will be using these for a long time.
Cons:
Lenses scratch easily.
The rubber nose holder is not very strong.
We like that these sunglasses offer no lower lens support, since that means you can more easily see the ball when you golf. The wraparound design ensures that the glasses won't fall off as you play, and the entire product is very strong and made to last for a long time.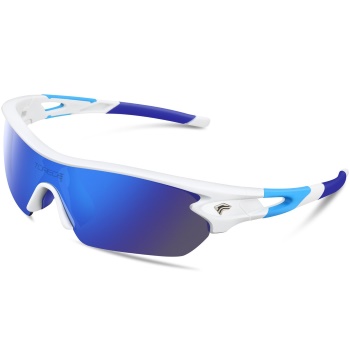 Pros:
Great coverage for your eyes.
Polarized lenses.
Extremely comfortable to wear.
Cons:
Only some of the glasses components are covered by the full warranty.
Not as durable as some of the other options here.
The price tag on these shades is a lot more affordable than much of what we have shown you so far, but they are also not as durable compared to the other options on this list. They'll work fine for most golfers, providing great eye coverage with their large lenses, but the lower frame support can block your view of the ball at times, and these glasses are not made to handle a lot of wear and tear.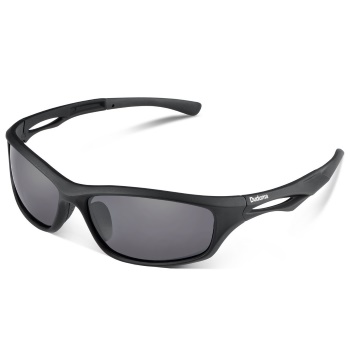 Pros:
Feels very light.
Won't cost you much.
Warranty will take care of most problems.
Cons:
Not much protection from very bright light.
Here is another affordable pair of sunglasses that comes in a wide range of options. These are superlight and very durable, and they are covered by a lifetime warranty. The manufacturer will service and replace any components on the glasses that break after you buy them.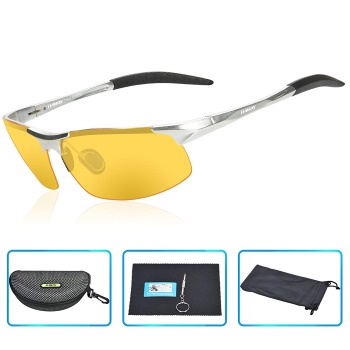 Pros:
Wide lenses offer lots of protection.
Makes it easy to see the ball.
Unique, stylish look.
Cons:
Not polarized.
Not made to last.
With these glasses, you get decent protection from sunlight for a decent price. The coating and the frames may not be incredibly strong or last very long, but these are definitely serviceable. The wider than normal lenses give you some great protection from the sun and improve visibility and clarity.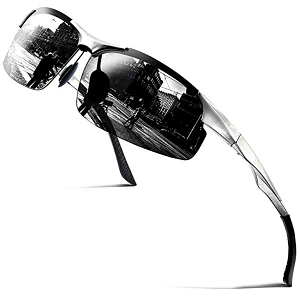 Pros:
Covered for the lifetime of the product.
Polarized lenses protect your eyes.
Great price point makes them affordable.
Cons:
Some components are not very strong.
These polarized glasses will experience reduced wear, and they are designed to fit your face comfortably and securely. The soft nose pad helps the glasses feel like they are hardly there, as does the lightweight design, but the nose pad isn't very strong and may break after a while.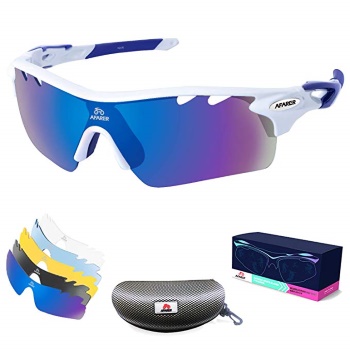 Pros:
Great price point.
Comfy to wear.
Feels almost weightless.
Cons:
Not made to last for a long time.
Limited field of vision.
Even though these are some of the cheapest glasses on this list, they are still very sturdy and incredibly difficult to break. They may scratch, and some of the smaller components may not stay on as well, but the frames and lenses are very durable and are covered by a 90-day money back guarantee.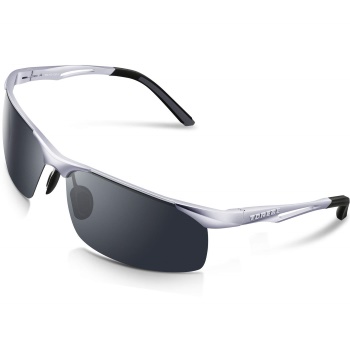 Pros:
Super stylish.
Provides excellent clarity.
Cons:
Some parts are not well constructed.
May not rest comfortably on everyone's face.
Torege has designed an affordable and fairly effective pair of sunglasses here, but they fell short on the form-fitting features. These may float on some people's faces rather than rest comfortably, and they are not made to be very durable, but that's what you get with the low price range.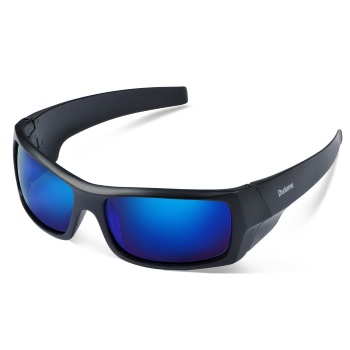 Pros:
Very strong construction.
Competitive pricing makes them a great value.
Cons:
Can be slightly uncomfortable.
Duduma offers a lot of different colors and styles for customers with this lineup, and the frame for this particular model is nearly unbreakable. There is a lot of value packed into these glasses for being offered at such a competitive price point.
How the Right Sunglasses Impact Your Golf Game
You might just think that any pair of sunglasses would be fine for golfing, but if you compete against someone who knows what they are doing and who has a pair of sunglasses made for golfing, while you just have whatever you could find for cheap, you are going to be at a definite disadvantage.
The average sunglasses don't provide the clarity and comfort that golfers need out there on the course. Many types of sunglasses will simply be too dark for you to see the ball properly. They may keep the sun out of your eyes, but that's about it. Having something that is specially designed for golfing or that fits a golfer's unique needs can make a big impact on your game.
You won't have ideal weather conditions every time you are out there playing. There will be times where the sun will be directly in your eyes. In other times, your head will be sweating and it will be tough to keep your sunglasses on your face. That's when you'll wish you had a decent pair of sunglasses, instead of whatever you were able to find for a bargain.
The right pair of sunglasses makes an impact because it reduces frustration, improves precision and comfort and allows you to play with fewer distractions. You won't even realize the kind of impact the right sunglasses have on your game until you make the change.
If you want to improve every aspect of your golf game no matter how minor, then you have to consider the kind of sunglasses you are using. Read on to find out what to look for and what some of the better sunglasses out there are offering.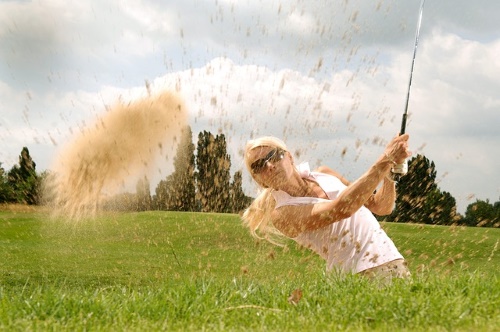 What to Consider before You Buy sunglasses for golf
What should you be looking for in a pair of the best golf sunglasses? Some of the most important aspects to consider when you are trying to find the right sunglasses for golf are:
Fit- Most sunglasses will fit you just fine, and the majority are made to be a one-size fits all. But it's not a bad idea to get a pair that is designed to fit your face in particular, such as a pair of prescription sunglasses. You'll pay extra for that kind of fit, but if you struggle with typical sunglasses due to the shape of your head or your particular comfort needs, then you may want to consider going to your optometrist for the right sunglasses.
Transition Glasses- A Pair of transition sunglasses are going to be more expensive than your typical shades, but they are the preferred glasses for the professional golfer. This kind of glasses will change how much shade it provides based on how bright the sun is. That ensures that you have clear visibility at all times and that your eyes are protected from the sun. A lot of golfers spend plenty of time out in the sun, and they need to consider how they are protecting their eyes. Transition shades offer some of the best protection, allowing only the right amount of sunlight in.
UV Protection- Another feature of any common sunglasses is UV or ultraviolet protection. This safeguards your eyes against the harmful effects of radiation in sunlight. If you are going to be spending a lot of time outside in the sun, then you want to protect your eyes from the gradual deterioration caused by sunlight. The majority of sunglasses will include this feature, but it's a good idea to check the product description before you buy it. It can make a big difference in the long run. It may not affect how well you see out on the course, but it can affect your eye's health in the future.
Durability- Your glasses may fall off your face as you swing, or you may accidentally drop them as you are crossing the green and take a wrong step. You want something that will last you for a long time and that is worth the investment you put into it. It's not a bad idea to spend a bit extra and get glasses that you can depend on and that are designed to be durable, so that they last you for more than a few games. One of the best ways to ensure that you are getting tough glasses is to read customer reviews. It should be obvious after reading a few of them how long the glasses are going to last you. If the manufacturer covers their glasses with a warranty, that's another good sign that the glasses are built to last.
What to Avoid
When shopping for the best golf sunglasses, there are certain things you need to avoid. Some of the most common buying mistakes that inexperienced (and sometimes even professional) golfers will make are:
Buying Based on Style Alone- When you see your favorite golfer in pair of cool shades, it's tempting to go for that same style, so that you can reach the same level of coolness as they do. That's a temptation you want to avoid, as buying eye-wear based on style alone can make you overlook some poor aspects of a given pair of sunglasses.
No Polarization- One of the most important factors to consider in sunglasses is polarization. Most people think that UV protection will safeguard their eyes enough, but what they may not realize is that it doesn't do much for eyestrain. Polarization will help your eyes feel more relaxed and prevent them from becoming strained. You'll spend a lot of time on the golf course looking at far away or small objects, such as the golf ball and the flag post. This is why you need protection from eyestrain, just as much as from UV radiation.
Overly Expensive Glasses- There is a big market out there for overpriced sunglasses. These are glasses that are usually more about style, rather than any actual features. You will probably end up paying far too much for them. Be careful about falling into the trap of thinking that the more expensive glasses are the better ones. That's not always true, and you can find some great glasses at a good price, if you are willing to do the research. We'll cover some good and budget-priced ones here, but we want you to think about how much you can afford and how much the glasses are worth, rather than just assuming that a higher price means better quality.
Poor Coverage- Another problem that golfers run into when they buy shades based solely on style is that there isn't enough coverage for their eyes. You want to ensure that your eyes are fully covered and that no sunlight is coming in. The wider lens glasses might not be as popular as some of the sleeker, smaller shades, but they are far more functional. You will appreciate the greater coverage when you are out there playing in the sun.
Final Thoughts
We hope one of these sunglasses stood out as a good choice for you. If you didn't find one you like among those that we reviewed, you can always use the above guide to help you find suitable sunglasses. There are some great choices out there that we didn't cover here, but we just want you to keep in mind that price and style are not the only factors to watch out for, and that you can find some great deals on high quality glasses that offer ample protection if you take the time to look.
Once you get the pair of sunglasses that suits you well, you'll have a much more pleasant time playing out in the sun, your eyes won't feel as tired and you'll be able to see the ball better.