Best Women's Golf Shoes
This page contains affiliate links. As an Amazon Associate I earn from qualifying purchases. Learn more
Shoes are an important part of your golf gear. Just as you would not dare go out on the course with untested clubs or a ball that doesn't work well for your play style, you also should not go out to play with the wrong kind of shoes.
We will show you how to find the very best women's golf shoes and even show you a few of the best ones on the market today. Hopefully, this helps you make an informed choice when you are ready.
Quick Links: Best Women's Golf Shoes
ECCO Women's Biom Hybrid Golf Shoe

Tough, weather resistant shoes

Light and flexible construction

Great traction to keep you stable

VIEW LATEST PRICE

Skechers Women's Go Golf Birdie Golf Shoe

Very comfortable to wear and use

Lightweight mesh features

Designed with high quality parts and construction

VIEW LATEST PRICE

adidas Women's w Climacool Knit Golf Shoe

Adjustable Velcro straps

Plenty of support and comfort

VIEW LATEST PRICE

Best golf shoes for wide feet

Best golf shoes for wide feet

adidas Women's W Response Light Golf Spiked

Superb gripping tread

Great protection from water

Quality materials

VIEW LATEST PRICE

Best golf shoes with arch support

Best golf shoes with arch support

Skechers Women's Go Golf Eagle Major Shoe

Can be affordably priced, depending on options chosen

Very soft and flexible

Lightweight and breathable design

VIEW LATEST PRICE
5 Best Rated Women's Golf Shoes Reviewed
We have examined a number of different women's golf shoes, and we want to point out a few of them that we think offer some great value. These are not just shoes that fit a certain budget, but they are also ones that meet many of the requirements we listed above.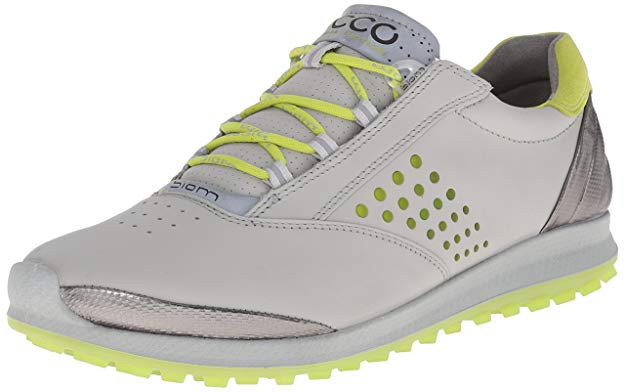 Pros:
Tough, weather resistant shoes.
Light and flexible construction.
Great traction to keep you stable.
Cons:
The high quality means a high cost.
These leather shoes are very high quality. They are not designed to keep water out, but extensive water exposure is unlikely to cause damage to the shoes, and they will last you for a long time. They have been specially treated to ensure they hold up to extreme weather conditions. They are soft and fairly breathable, with enough flexibility to make any sportswoman happy. The high quality contributes to the high price tag, and like the last pair of shoes, these vary in price depending on what size you go with. They offer great traction as well, keeping you stable and in place even when the ground is slick.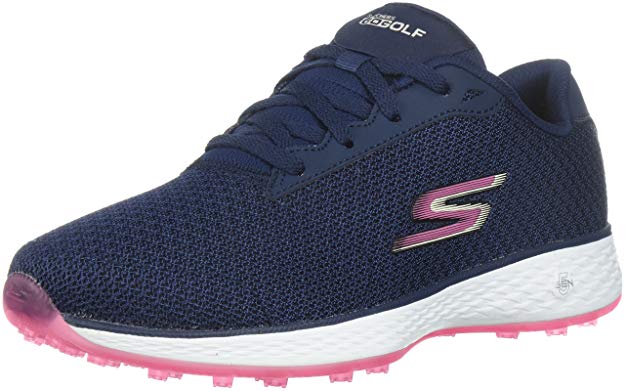 Pros:
Very comfortable to wear and use.
Lightweight mesh features.
Designed with high quality parts and construction.
Once again, the larger the shoe you purchase, the more these tend to cost. The name brand here means high quality shoes and a higher price tag than average. The grip on these is superb and will keep you stable in even slippery conditions. The mesh fabric used to construct them is lightweight and designed to be very breathable, making for an overall comfortable fit. The engineered design allows for less friction as you insert and pull out your feet, reducing irritation and ensuring you are comfortable, even after playing in them for long periods of time.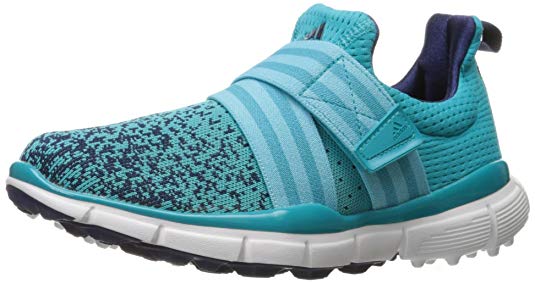 Pros:
Adjustable Velcro straps.
Plenty of support and comfort.
Cons:
Not made for use in wet conditions.
The synthetic sole is fairly comfortable, and the grip at the base is decent but not as good as some of the others on this list. The Velcro straps ensure a snug fit that allows you to loosen the shoes if your feet are becoming uncomfortable as you play for a long time. Foam insoles offer a lot of support and comfort to make these very enjoyable to wear.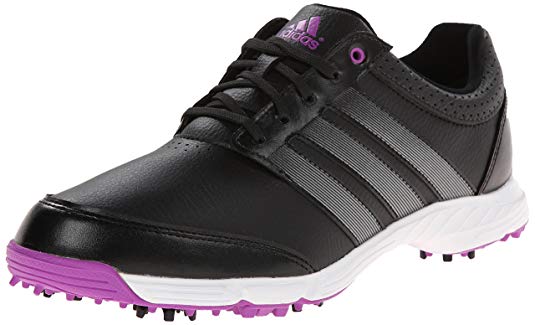 Pros:
Superb gripping tread.
Great protection from water.
Quality materials.
Cons:
Slightly narrow at the toe.
Spiked tread limits your options.
These shoes from adidas are made for wear in rainy weather, and they'll keep the water out very well while providing you plenty of flexibility and comfort. They are not as breathable as some of the options we have looked at here, but they are otherwise an enjoyable wear. The spiked treads offer great grip, but may be too much for some golfers, especially if you want to wear them outside the golf course. You should note that they run a bit narrow in the toe, and if that is a problem, then you will want to to consider a different shoe.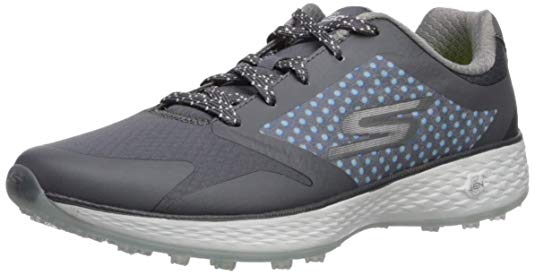 Pros:
Can be affordably priced, depending on options chosen.
Very soft and flexible.
Lightweight and breathable design.
We told you that it's possible to find good women's golf shoes for under $200, and here is a prime example. These retail for anywhere between $30 and $100, depending on which size you need. These have some great cushioning that supports your feet and keep you feeling comfy during long play sessions. The rubber soles are soft and responsive, offering enough give to take some abuse and not be too hard on your feet. These are water resistant shoes, meaning they are not completely waterproof, but that tends to make them more breathable and lighter, so it's a decent tradeoff if you don't plan to play in seriously inclement weather.
How the Right Women's Golf Shoes Make a Difference
The golf shoes you pick have an impact on how you play the game. If your shoes lack traction and grip, then you may slide as you swing your club. If they are not waterproof, then you can end up with soaked, uncomfortable feet when playing in adverse conditions or in wet grass. If the shoes are not a perfect fit or have little cushioning, then they can feel more uncomfortable the longer you play.
You want to carefully consider the shoes you are purchasing, because the wrong decision can hurt your game, cause you to lose focus, restrict your range of motion and make it very difficult for you to play at your best. Shoes may seem inconsequential, but if you have ever tried to play a sport in ill-fitting or uncomfortable shoes, you will know that they can have a huge effect on the game and the level at which you play. You want to be able to focus as much as possible while you are golfing, and you can't do that unless you have some decent shoes.
What to Consider before You Buy
In order to find the best women's golf shoes, you need to know what you are looking for. There are some specific factors that make for great golf shoes, and we want to point those out to you here.
Waterproofing– You're likely to play golf in some less than ideal conditions. There may be times where the course is wet or you are playing in the rain. You want shoes that can handle the water, and Athlete Audit advises you to check the product description. Water resistant isn't the same as waterproof, and water resistant shoes will only keep out the water for a short while. If you want dry feet for the entire game, though, then you will need to go with waterproof shoes. Just know that waterproof shoes tend to lack breathability.
Comfort– One of the most important aspects of any kind of shoes is how comfortable they are to wear. We are not just talking about the size of the shoes and how they fit on your feet, but also the materials they are made from and what kind of features they offer to provide extra comfort, such as padding and wicking.
Flexibility– This ties into comfort, but we think it deserves its own category. A lot of modern golf shoes are pretty flexible, but some of the waterproof ones and the sturdier stuff is not likely to be flexible. This results in shoes that may feel fine at first, but as you pivot, walk and try to move around in the shoes, their inflexibility will start to cause discomfort. You need to look at the materials the shoes are made out of to get a good idea of how flexible they are. Even in a mostly laid back game like golf, you need some flexibility and range of motion in your gear.
Grip– You'll also want to consider the ability of the shoes to keep you stable and prevent slipping. You may want to go with spiked shoes or at least something with excellent traction. Consider how well the shoes will work if you are playing in rainy weather or on wet grass.
What to Avoid
If you aren't careful, you'll make the same mistakes that many people do when it comes to finding the right women's golf shoes. Here are some of the most common mistakes you should be trying to avoid:
A Lack of Breathability– In the past, golf shoes were thick and heavy and not very breathable. Golfers' feet would sweat a lot and chafe after hours of play, making these uncomfortable to wear, according to Golf Shoes Club. Make sure that whatever shoes you get are at least somewhat breathable. Otherwise, you will be miserable and probably not feel like playing for too long when the weather gets very hot.
Paying too Much– You don't need $200 shoes to get a lot of value out of your shoes, and there isn't any reason to go for the pricier shoes, says Golfweek. You can get shoes that perform just as well at a much lower price range, if you are willing to do some looking. We'll show you a few shoes in a moment that are well under $200 and still work perfectly well for any skill level.
Assuming Shoe Size– You can't assume that shoe sizes for women's golf shoes will be the same as they are for regular shoes. There are many companies that make their shoes with a different sizing scale than what you get with most shoes, so pay attention to what the customer reviews have to say about sizing if you are shopping online or try them on for yourself before you buy if you are purchasing from a physical retailer.
Not Looking at Other Options– If you just go with the first shoe you find that seems to work well for you, then you may miss out on a great shoe that is actually a lot better. Be sure to take time to look at your choices and carefully weigh the pros and cons to see which are the most suitable shoes.
Final Thoughts
You've seen our top picks for women's golf shoes, and now you should be able to pick some for yourself. Check back through this guide to ensure you are picking something worthwhile and to make sure you don't regret your decision later on.