This page contains affiliate links. As an Amazon Associate I earn from qualifying purchases. Learn more
A good golf bag will hold and protect your clubs as well as personal items safely, while providing convenience. There is a golf bag or two out there that is simple to use, affordably priced and packed with the features you want.
We have reviewed some of the very best golf bags available today, and we have provided the features of each as well as their pros and cons. Whether you're looking to buy a new golf bag, looking for some advice, or just want to check out what's on the market right now, this article will help you find the right bag to fit your needs.
At a Glance: Best Golf Bags
In the comparison table below, we've highlighted some of the most important features of each product. You'll find more detailed information about each product later in the article.
PICTURE
NAME
RATING
SHOPS

1

OGIO ALPHA Convoy 514 Golf Cart Bag

Show more

2

Orlimar Pitch and Putt Golf Lightweight Stand Carry Bag

Show more

3

TaylorMade Golf TM Stand Golf Bag 5.0

Show more

4

Callaway Golf 2018 Org 14 Cart Bag

Show more

5

Founders Club Premium Cart Bag

Show more

6

Cobra Golf 2018 Ultralight Cart Bag

Show more

7

Titleist Hybrid 14 Golf Bag

Show more

8

Sun Mountain C-130 Golf Bag

Show more

9

ProActive Sports 5″ Sunday Bag

Show more

10

Tangkula Golf Stand Bag 5 Way 8.5

Show more
Types of Golf Bags
Carry Bags – A carry bag or "stand bag" is a great option for the driving range or if you plan to walk the course. They are compact, lightweight, easy to carry and are collapsible for easy storage. The average carry bag can only hold a handful of clubs, balls, and tees, making it ideal for golfers who do not want to bring their full set to the course or range. Most come with either one strap or two-straps with thick padding that provides shoulder and back comfort and to disperse weight evenly. Most also come with a pair of foldout legs that form a tripod to make equipment readily available on the course.
Cart Bags – Cart bags are essential for golfers who use a riding or push cart on the course. These bags offer a number of versatile features in addition to club, tee and ball space, and are wider than the traditional carry options. Cart bags provide lots of room for storage and are constructed with sturdy, long-lasting materials that protect in most weather conditions.This bag type is perfect for golfers who are not particularly concerned about weight, but still want ample storage space for their golf essentials.
Staff Bags – Staff bags, also known as "tour bags", are the largest and sturdiest golf bag choice. These are for serious athletes and are used by every PGA Tour professional. These bags are made with high quality leather and other heavy materials to effectively endure any type of weather. These bags are not designed to fit on the back of a cart.
Best Rated Golf Bags Reviewed
OGIO ALPHA Convoy 514 Golf Cart Bag
Product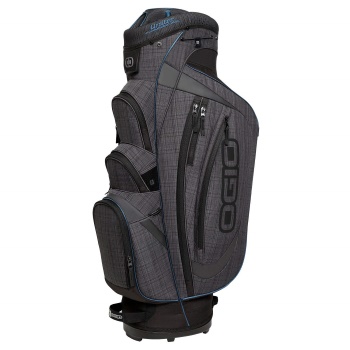 Pros
Insulated pockets with drainage
Made from discarded and recycled plastic water bottles
Self-finding fidlock magnetic closures
Cons
Material feels thin
Clip ring is plastic not metal
Pros
Insulated pockets with drainage
Made from discarded and recycled plastic water bottles
Self-finding fidlock magnetic closures
Cons
Material feels thin
Clip ring is plastic not metal