Best Golf Rangefinders
This page contains affiliate links. As an Amazon Associate I earn from qualifying purchases. Learn more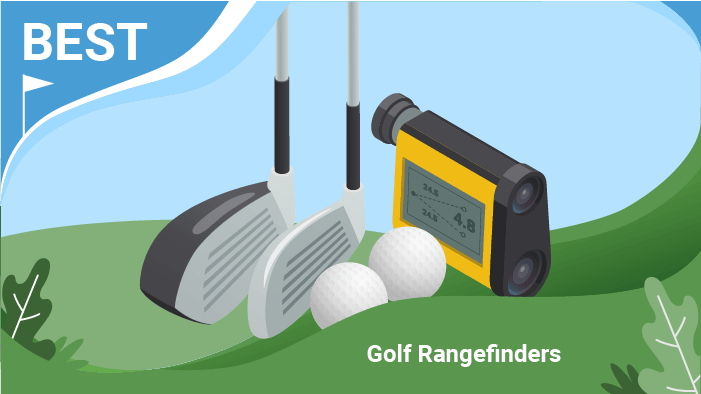 With a golf rangefinder, you can sight your next shot quickly and easily, determining the distance from one spot to another on the golf course, even on courses you have never played on before.
As you can imagine, a tool like this can come in very handy as you play, and there is quite an expansive market for these devices.
That's why we want to help you sort through what is out there and ensure you know how to pick the best golf rangefinder.
We'll show you what to look for, what to avoid and what some of the best products on the market today are. Then you can decide for yourself which rangefinder may be right for you.
Quick Links: Best Golf Rangefinders
TecTecTec VPRO500 Golf Rangefinder

Acquires the target fast

Covers a large distance

Very easy to carry, due to its light weight

VIEW LATEST PRICE

Best golf laser rangefinder

Best golf laser rangefinder

Bushnell Tour V4 JOLT Golf Laser Rangefinder

Very durable

Very accurate

Focuses quickly

VIEW LATEST PRICE

Nikon Coolshot 20 Golf Rangefinder

Very easy to use

Lots of features for experienced and amateur golfers alike

Lightweight and compact

VIEW LATEST PRICE

Callaway 300 Pro Laser Rangefinder with Slope Measurement

Very affordable

High quality design

VIEW LATEST PRICE

Best golf gps rangefinder

Best golf gps rangefinder

GolfBuddy Voice 2 Golf GPS/Rangefinder

Provides accurate readings

Very cost effective

Gives you a lot of information

VIEW LATEST PRICE

Saybien Golf Rangefinder – Options with and Without Slope, 500m

Very lightweight

Good value for money

Excellent at keeping readouts accurate on any terrain

VIEW LATEST PRICE
Best Rated Golf Rangefinders Reviewed
We have shown you what you need to look out for. Now we want to provide you reviews for some of the best golf rangefinders available. We have picked out these particular ones because of their price ranges (so that they can fit just about any budget), their quality and their features. Hopefully, you will be able to find one that fits you well.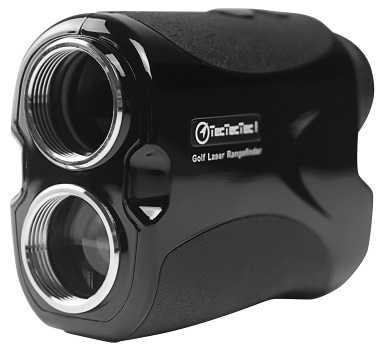 Pros:
Acquires the target fast.
Covers a large distance.
Very easy to carry, due to its light weight.
Lots of features.
With this rangefinder from TecTecTec, you get very accurate and very quick readings over a distance of one yard to 540 yards. It's a lightweight and easily portable product that is compact enough to make it convenient to carry. It comes with a shoulder strap for easy carrying, as well as lots of other features that offer some great value for your money.
This rangefinder is quick and easy to set up, it includes a guide and a cleaning cloth, and it has a two-year warranty. Unfortunately, it probably won't last those two years, and you will likely have to deal with customer service about it at some point, since the product is prone to have parts fall off after extended use. Customers have reported minor defects occurring after about a year of use, so be prepared for that, especially since this is one of the more affordably priced rangefinders that is also a high performance tool.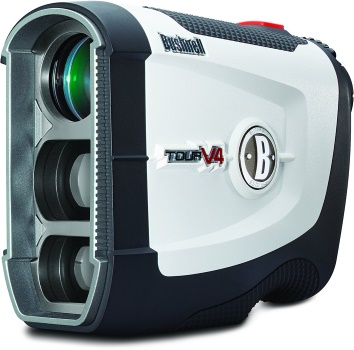 Pros:
Very durable.
Very accurate.
Focuses quickly.
This one is a lot more expensive, but it is also produced by the trusted brand Bushnell. They are known for their excellent customer service and have a reputation for making durable outdoor products. This rangefinder can provide detailed results for distances ranging from five to 1,000 yards. It includes magnification up to five times, as well as a fast focus feature that allows you to track your target quickly and effectively. The carry case and battery are all high quality components that should last you for a long time. This is a rangefinder that is built to last, and it comes with a two-year warranty to back up that claim. It's also Pro Certified and designed to meet tournament regulations, so you can use it no matter what level you are playing at.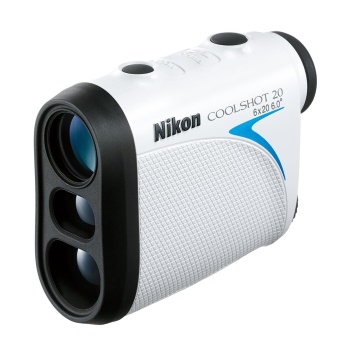 Pros:
Very easy to use.
Lots of features for experienced and amateur golfers alike.
Lightweight and compact.
Cons:
Has trouble picking up targets accurately with a background in the picture.
Nikon is another company with a good reputation for great binoculars, cameras and other outdoor sighting tools. This rangefinder comes with an extra carrying case, target priority features, and a compact and lightweight design.
It can be carried easily in any golf bag, and it is incredibly simple to use. One of the neatest features it offers is the ability to quickly and easily mark and measure multiple targets with the press of a button. That's great for determining which shot you want to make and helping you choose what to do next while out on the course.
For golfers who are having trouble finding the right approach to get to the next hole, this rangefinder is excellent at sighting hazards, determining distances quickly and assisting you in lining up your next shot.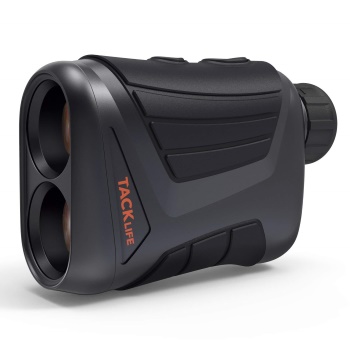 Pros:
Very affordable.
7x zoom.
Cons:
Isn't as accurate as some of the competing devices.
Can be tough to use.
For the budget-minded, this is a great option. It retails for a little over $100 and can measure up to 900 yards fairly accurately. It comes with 7x magnification and is very lightweight, offering a lot of the same features and specifications as much more expensive options.
So, why would you choose something that is more than $100 more expensive than this one if it works so good? Well, the specs really apply only to optimum conditions. If there is some background in the view, this rangefinder may have trouble giving accurate readouts. It can also take some getting used to, as it is not as easy to use as some of the competition, and you will have to get to know some of its nuances before you can use it quickly and effectively without any problem.
It's a great rangefinder for the price, but if you have a larger budget, you will probably want something else. We recommend this one for golfers who are just starting out and want something to give them a bit of an edge, rather than a fully featured, high-quality rangefinder that is going to cost a lot more.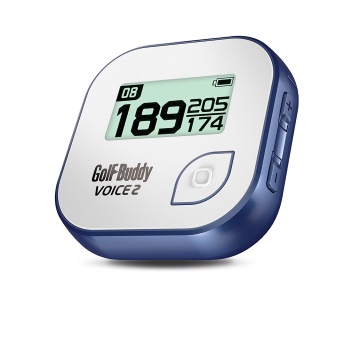 Pros:
Provides accurate readings.
Very cost effective.
Gives you a lot of information.
Cons:
Takes some getting used to.
No vision mode.
This is another option for those who are on a tight budget. It retails for close to $100, depending on which version of it you get and where you buy yours from. It's different from the other rangefinders we have listed here in that it isn't a fancy set of binoculars that lets you sight your distances. Instead, it is a voice activated GPS that provides a lot of the same information, but in a very different way.
The battery lasts for up to 14 hours, and it provides distance readings from the front, back and center of the green. It is water resistant, and it can detect holes and course layouts, so even though it looks like a simple tool that won't offer much value, there is a lot going on under the casing.
It's actually a pretty sophisticated instrument, and it can offer accurate readings for most courses, but it requires an entirely different method of use compared to binocular rangefinders, so it might not be to everyone's liking.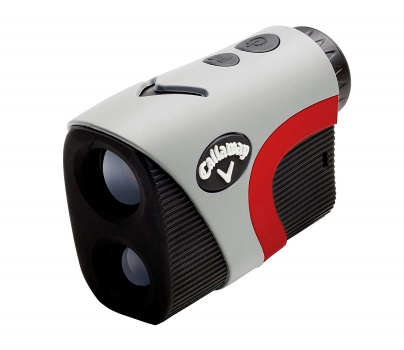 Pros:
Tons of features.
High quality design.
Made to last.
Multiple target measuring.
Cons:
One of the most expensive choices available.
While the Callaway rangefinder is one of the more expensive options, it is also one of the more robust and long-lasting rangefinders available. This is a high quality product through and through, so it definitely justifies its higher price tag (around $300 at most retailers), but not everyone will have that kind of money to spend on what many see as an optional golfing tool.
The 6x magnification gives you accurate readings from as little as five yards to as much as 1,000 yards. It includes a sighting features that gives you the distance to the flagstick and confirms that distance with a chirping sound.
That may not seem like much, but it can add some extra flair to your golf game. Also included is a scan functionality that lets you mark and measure multiple distances at a single time. This allows you to find the right route through the course and personalize the game to your play style.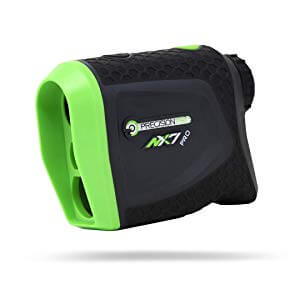 Pros:
Comes with all sorts of great accessories and features.
High quality design.
Covered under a full two-year warranty.
Cons:
Can be troublesome to use.
Maybe you want all the bells and whistles of a high end rangefinder but still want something a bit cheaper than the Callaway option. We have you covered there as well, with this selection by Precision Pro Golf. It adapts to slopes, allowing for greater precision and accuracy in its readouts.
There will definitely be a lot less guesswork involved as you try to estimate your shots while using this rangefinder. It's also fully covered by a two-year warranty, including battery replacement.  You'll never have to worry about replacing parts on your own while it is under warranty.
It comes with a lanyard and carrying case for easy transport, as well as a manual and a cleaning cloth. The zoom and accuracy features on this rangefinder are second to none, giving you quick and detailed readouts that help you line up and plan your shots effortlessly. The only real downside to this high end product is the way it works. If you have used rangefinders or similar tools before, then you may have trouble getting used to this one, since it works so differently.
This rangefinder requires that you press and then release the green button to both turn it on and select targets to measure distance from. It targets very quickly and vibrates when it has determined the distance for you. It's not difficult to use, by any means, but most rangefinders operate differently, giving you separate buttons for separate functions.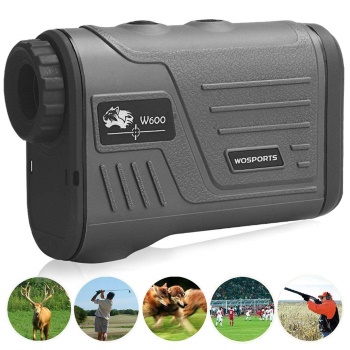 Pros:
Great price.
Lots of features for your money.
Comes with everything you need.
Cons:
Not the easiest rangefinder to use.
Can take a while to give you readouts.
Wosports offers an affordable option here that may be light on features but is still a good. This makes it a basic tool for golfers who are just starting out. It's not as simple and easy to use as a lot of the other choices on this list, but it does the job well.
You just have to get used to the slower and a bit more cumbersome functionality it offers. It also includes all the basic accessories- cleaning cloth, guide, carrying case and battery. It will measure up to 700 yards and provides 6x magnification.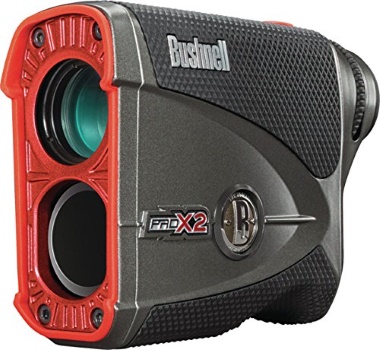 Pros:
Made to last and protected by a good warranty.
Very accurate, even on uneven terrain.
Very accessible
Cons:
Doesn't measure long range very well, compared to some of the competition.
This fairly high end rangefinder has lots to offer. It can accommodate for slopes, provide you with 6x magnification, manage to be accurate as close as half a yard and measure the distance for up to 450 yards to flags. It's not as long range as some of the other options. This makes it better suited for smaller courses, but it still does the job well.
It's backed by Bushnell's robust warranty and trusted customer service offerings. Rest assure you are getting something that will last. The provided features are a little on the light side though, to give you a budget-friendly product by this manufacturer.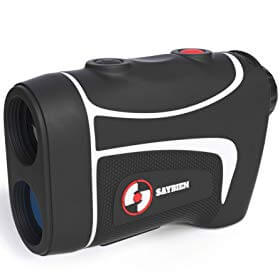 Pros:
Very lightweight.
A good value product for most golfers.
Excellent at keeping readouts accurate on any terrain.
Cons:
Only reasonably durable.
Not as fully featured as pro golfers might like.
Like with most modern rangefinders, you can charge this one in any USB port. It's about middle of the road when it comes to durability, functionality and pricing. Even though, it is a good high quality option for golfers who have not been playing a long time and who are not sure how much they will rely on a rangefinder yet.
This rangefinder is designed to be easy to carry, with its lightweight and compact design. It also scans continuously to give you the best readouts, even on slopes. It is course legal to, so you can use it competitively.
How the Right Rangefinder Makes a Difference
Rangefinders can come in very useful as golf course tools that help you line up your shots. The best golf rangefinder will allow you to estimate how much distance there is between you and different parts of the course. That can help you determine which iron to use and how much power you need to swing with. Of course, there is the potential to fixate on those distances and not realize that you have other club options, but that's not a problem with the rangefinder so much as it is an issue with the way a person plays.
Using a rangefinder can help your shots become more accurate and ensure you spend less time hitting wild and hoping for the best. If you manage to purchase a high quality one, then you can start to see some great improvement in your game and watch your score drop lower and lower each time. You might be surprised at the kind of difference a tool like this could make in your game, and it's something that even the professionals use from time to time, especially on new courses that they are not familiar with.
What to Consider Before You Buy a Rangefinder
There are some features you absolutely want the best golf rangefinder to have. If you haven't shopped for one of these before or even used one in the past, then you may not know what to look for. Some things to keep in mind as you are shopping for the right rangefinder:
Speed- Your rangefinder needs to be able to find the targets quickly. The more time you waste acquiring the target, the less likely you are to get a good reading. Slow rangefinders are often low quality devices that will frustrate you and interfere with your game. Look for products that work fast and deliver reliable results every time.
Accuracy- This is the second key element in any decent rangefinder. The device needs to be able to give you an accurate reading. Otherwise, it isn't worth the money you paid for it, and you are only wasting your time with it trying to get it to provide you with any information. You might think that every rangefinder would be tested to work, but some manufacturers know that a lot of their consumers won't take the time to read reviews or check to see if the product works as advertised, and they push a cheap product out the door that isn't as accurate as you may like. Take your time in choosing one to ensure you don't get taken advantage of.
Quality of Design- You also want a rangefinder that is made from quality materials. We're not just talking about the plastic and metal that it is made of, but also the bits of adhesive holding it together. Consider this quality problem reported by Golf Digest about a name brand rangefinder. The parts are not the problem so much as what keeps them all together. This is the kind of issue you won't even know about until you get the product out on the course and test it out for a while. That's why it is so important to consider reviews by people who have used the products before you make your purchase.
Plan to Practice– You probably won't be able to use a rangefinder successfully right from the start. These devices take some getting used to, so be prepared to do some practice, perhaps by yourself or in an environment where you aren't playing competitively. You want to see how the rangefinder operates and get used to using the information it gives you in a way that improves your golf game. You'll need some time and space to figure that all out, and you should not expect to just put it into play on your first game after you buy it.
Features- The best rangefinders don't just do the bare minimum. They provide so much more. You can get rangefinders these days that tell you more than just the distance. You can get ones that provide information on wind speed, temperature, air pressure and more. Some of them will even tell you what club to use to make your shot. That's great for golfers who have not been playing the game for very long.
Distance- A decent rangefinder will be able to accurately measure quite a distance. Some of the golf courses you play on will be huge, and you want a rangefinder that can accommodate you on any course, so check the distance it can provide readings for before you buy it.
What to Avoid
When you go to buy a golf rangefinder, there are some factors you need to watch out for. Not all of these are going to be top quality products, so you need to know the warning signs that indicate a problematic rangefinder:
No Reviews- One of the best ways to tell if a product is going to be practical and effective is to read reviews by people who have used it. You can't tell much about a product you have never used and that you are buying online. Yes, you have the manufacturer specs to look at, but those can sometimes be inaccurate or misleading. It's not until someone gets it out on the course and tries to use it that they find out if it lives up to its promise. A lack of reviews is usually a good indication that no one is buying the product and testing it out.
No Instructions- This is similar to not finding any reviews. It's not uncommon for a rangefinder to come without any instructions on how to use it, but even then, there is probably an instructional video online. If you can't find anything like that, then that could be an indication that you are getting something that isn't very popular and isn't used much by the golfing community. There could be a very good reason no one is using that product or posting videos about it, and you should consider that as a warning sign before you buy it.
Incomprehensible- You can find some rangefinders that are tough to use simply because they are not accessible, are made for non-English speakers or are simply not designed well. They may provide readouts that you can't make any sense of and are not helpful. If you can, find a video reviewing the rangefinder you are looking to buy before you make your purchase, to get a feel for how easy it is to use. This is especially important if you have never used a rangefinder before.
Multi-Purpose- Now, we are not saying that every multi-purpose rangefinder is a bad buy for your golf game, but there a lot of these that won't do a very good job of providing useful golfing information. The problem of a tool doing many things but none of them very well comes into play here, as many multi-purpose rangefinders may have trouble providing accurate or detailed information that relates to golfing. You also have to watch for ones that are made for hunting or some purpose other than golfing. You may find that some of those are cheaper, but they may not give you the kind of information you are looking for.
Summary
A good rangefinder can have a big impact on your game. Even though, sorting through what's out there to find the best golf rangefinder can be a pain. That's why we covered a wide range of products here, so that you can find one that suits your needs. We hope this guide makes it a bit easier for you and allows you to find one, for lots of great golfing to come!